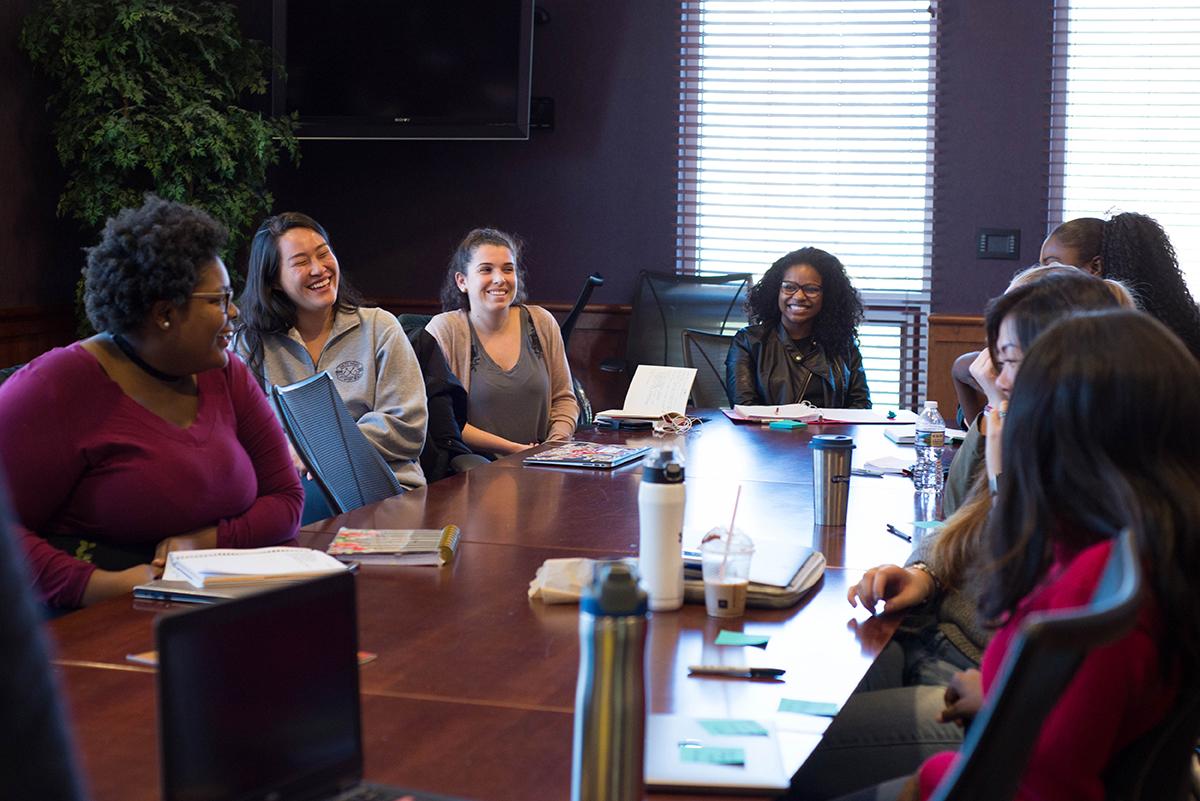 Women Founders
The University of Maryland has been and continues to be the launchpad for thousands of entrepreneurs, innovators, business owners, and creatives; many of whom are female founders, inventors, investors and artists.
---
Maryland Women's Business Center
Maryland Women's Business Center (MWBC) works with entrepreneurs across Maryland's capital region by way of three locations.
Through their resources, they encourage women to start, sustain, and grow their businesses.
Through workshops, individual counseling, facilitated peer group support, special resources, and access to capital, MWBC annually helps more than 1,500 women gain the skills, connections, and confidence necessary to navigate entrepreneurship.
Mission: To empower small businesses and women entrepreneurs to launch and grow in Maryland's Capital Region.
Vision: That Maryland becomes a recognized leader for growing and launching successful and innovative women-owned enterprises.
Values: Collaboration, Empowerment, Expertise, Inclusivity, Innovation
MWBC Business Counselors are available to help you effectively assess where you are on your entrepreneurship journey. Whether you are just beginning or seeking to grow an established company, our highly experienced counselors stand ready to help you navigate through what can often be a challenging and confusing process. Let MWBC be your accountability partner as you navigate through the entrepreneurship journey.
Some of the services they provide–free of charge and confidential–include one-on-one counseling sessions and peer group discussion sessions where they guide you and other business owners through entrepreneurial challenges.
Get started today, and reach out to your nearest MWBC Business Counselor! They meet with more than 150 women each year and open the doors to other resources, including a network of expert professional volunteers–accountants, business coaches, lawyers, marketing experts, and others–who also provide their mentoring free of charge.
Si usted es propietario de un negocio Latino y necesita ayuda en su idioma para iniciar o hacer crecer su negocio, tenemos servicios de asesoramiento disponibles en español. Comuníquese con Martha Jimenez al 301-355-2206 o martha@marylandwbc.org para comenzar.
MWBC – Montgomery County
Martha Jimenez – offers counseling in English & Spanish
Martha@Marylandwbc.org
301-355-2206
MWBC – Prince George's County
Angie Duncanson
Angie@Marylandwbc.org
301-383-1550, ext. 104
MWBC – Frederick County
Karen Kalantzis
Karen@Marylandwbc.org
301-355-2208
Maryland Women's Business Center (MWBC) Interactive Roadmap for Business Success helps women entrepreneurs and small business owners launch, nurture, and grow their businesses to achieve economic sustainability through every business phase. If you're new to MWBC, they offer a comprehensive interactive roadmap to help guide your entrepreneurial journey. They're here to support you every step of the way through planning, training, business advice, access to funding sources, and more!
Planning/Starting a Business -

When starting a new business, it helps to follow some basic steps to ensure you have a sound plan and required documentation. They will connect you to the proper agencies and resources needed to get started.

Growing a Business -

Access the resources needed to take your business to the next level. From funding options and certification criteria for woman-owned, minority, and disadvantaged businesses, to finding office space, developing HR policies and staffing, they provide information to help you grow and sustain your business.

Trainings, Workshops & Seminars - They offer a wide range of workshops and seminars to start and grow your business. Expert instructors lead workshops that are fast, convenient, and geared just for you.
Intensive Training Programs - Three intensive programs take a deep dive into specialized businesses—procurement

,

childcare

, and

retail

—to develop skills that create success. They also offer an in-depth

financial resilience program

to help women business owners achieve economic stability and growth.

Networking -

MWBC offers many options to connect with other entrepreneurs, business owners, community leaders, funding partners, and more. From informal coffee & connection events to their largest event of the year—their awards luncheon—they help businesses foster relationships with valuable partners that can help them thrive.

Advising - No matter what stage your business is in, their highly experienced counselors stand ready to personally help you navigate through the next steps for your business and develop an action plan.
Funding - Accessing capital is often difficult for women. They are skilled at removing barriers for women trying to launch, scale, and grow their businesses and boost the skills, connections, and confidence necessary to navigate entrepreneurship.
Montgomery County

51 Monroe Street, PE-20, Rockville, MD 20850
(301) 315-8091

Prince George's County

Bowie State University
14000 Jericho Park Road, Suite 3212, Bowie, MD 20715
(301) 315-8091

Frederick County

Office Of Economic Development
118 North Market Street, Third Floor Frederick, MD 21701
(301) 600-1058
Resources for Women of Color
Grants
IFundWomen of Color - The go-to funding resource for diverse, early-stage entrepreneurs. IFundWomen of Color was created with our founding partner Caress to help diverse entrepreneurs bring their dreams into reality through raising capital via crowdfunding and providing grants, coaching, and the connections needed to launch and grow successful businesses.
Venture Capital
Backstage Capital - They invest in companies led by underestimated founders, including women, people of color, and LGBTQ+ founders. We've invested in 150+ companies so far, and our support goes beyond investment.
Black Girl Ventures - This organization's mission is to provide Black/Brown woman-identifying founders with access to community, capital, and capacity building in order to meet business milestones that lead to economic advancement through entrepreneurship. Apply to join the Change Agent Fellowship.
Black Women Talk Tech - A collective of passionate Black women tech founders. They have a unique understanding of the challenges Black women founders face and the advantages they bring in the industry. They are here to identify, support and encourage Black women to build the next billion dollar business.
digitalundivided - Serves as a catalyst for Black and Latinx women entrepreneurs, leading the development of programming that takes you from START to success. Whether you just have an idea or you're ready to make the commitment to start your company, they have a program for you.
Minority Business Development Agency (MBDA) - Minority-owned firms seeking to penetrate new markets — domestic & global — and growing in size and scale, can access business experts at a MBDA Business Center. Find the nearest MBDA Business Center.
Mogulette - This organization helps cities, organizations, and anchor institutions address inclusion disparities within innovation ecosystems.
Mom Your Business - Helps Black/Brown female entrepreneurs achieve exponential business growth through mentoring, coaching, and advocacy. Mom Your Business provides support and resources so that they no longer have to choose between family, business, or occupation: they can have it all!
UMD Alumnae and Resources
Artists & Creatives
Founders
Investors