The QSF bring entrepreneurs together industry and government customers, investors, technical mentors, leading-edge research and IP, and quantum-specific infrastructure (equipment, tools, facilities).
The QSF is conveniently located adjacent to the University of Maryland campus. This space has a combination of offices, conference rooms, and dry labs. It is also connected to the Mid-Atlantic Crossroads (MAX), which provides secure internet connections suitable for large research projects with high bandwidth needs, such as those in quantum.
The QSF will eventually move to a new development taking place at the gateway to the Discovery District directly across from the main campus entrance at Campus Drive and Baltimore Avenue.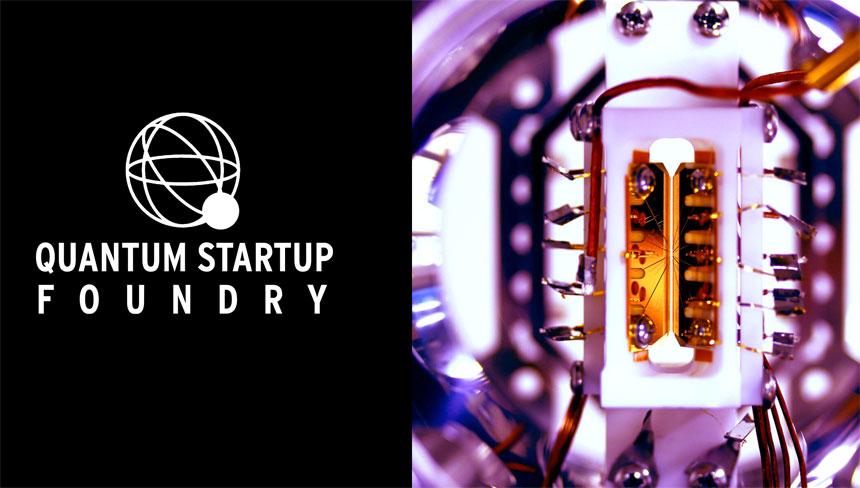 Our startup would not likely have been possible at other universities.
TraQtion Program
Connecting entrepreneurial companies with the best type of capital: paying customers.
TraQtion is a market accelerator program that leverages UMD quantum centers, the Mid-Atlantic Quantum Alliance (MQA) and other partnerships to connect companies with large government contractors for technology validation and potential customers looking for quantum and quantum-enabling technologies.
Creating the best TraQtion for any business.
By partnering with prime contractors and directly accessing customer needs through regional TechBridge programs, TraQtion:
Supports early-stage companies in working with larger companies and partners.
Connects startups with partners and customers for market feedback and, ultimately, confirmation of product market fit and technology readiness for deployment.
Solidifies customer requirements and quantum's unique value proposition to meet those needs.
Provides partners with access to a pipeline of promising technology startups.
The program provides startups with:
Partner matchmaking.
Education on the mechanisms for working with large companies (insurance, contracting, accounting requirements as well as IP considerations and protection).
Pre-TraQtion Program
For earlier-stage quantum and enabling technology startups who are looking for grant funding opportunities.
The Pre-TraQtion program helps navigate the Small Business Innovation Research (SBIR) and Small Business Technology Transfer (STTR) programs for specific topics related to quantum technologies. The Pre-TraQtion program will be hosting the first cohort in mid Summer 2021.
Program Highlights:
Facilitated customer discovery through a quantum-specific I-Corps program.
Connect with program officers through QSF partners with the goals of understanding their specific wants and needs.
Matchmaking with potential research and support partners (academic and/or corporate).
Assistance with setting up and writing your SBIR application.
Assistance with setting up back-office support for government grants such as SBIR/STTR's.
Simplified letter of support request process.
Access quantum-specific market and commercialization assessment assistance.
Leverage other regional quantum ecosystem efforts.
Office space (for an additional fee, can be contingent on award).
Access to select campus facilities such as 3D printing and the NanoCenter cleanroom (additional fees may apply).
Use Quantum Startup Foundry to…
Identify/apply for funding & grants

Through the Pre-TraQtion program, selected ventures will receive support navigating the Small Business Innovation Research (SBIR) and Small Business Technology Transfer (STTR) programs for specific topics related to quantum technologies.

Every year, eleven federal agencies fund a total of $4 billion in SBIR/STTR. In recent years quantum-related SBIR/STTR funding has grown 19% annually. 60 to 80 quantum-related projects are funded each year, primarily by DoD, NSF, NASA, and DoE.

Launch my venture

If you are interested in launching a quantum startup, the QSF offers the Pre-TraQtion program for early stage startups and the TraQtion market accelerator program.