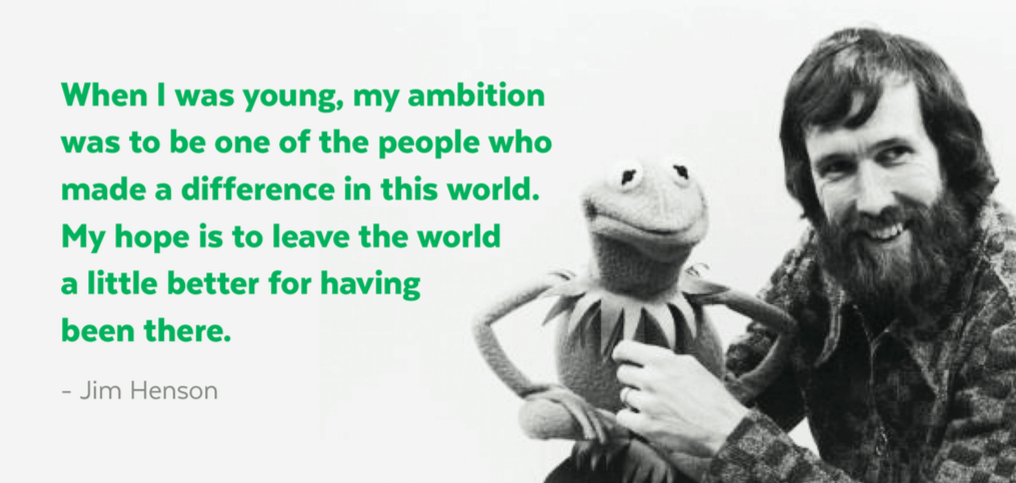 Henson Day
Every year on September 24th, the campus and surrounding communities celebrate the life, legacy, and works by University of Maryland alumnus, Jim Henson '60 & '78. Known for The Muppets, Sesame Street, The Dark Crystal, Fraggle Rock, and much more, Jim Henson laid the foundation for his future creations during his time as a student at UMD where he designed sets, programs, and posters for student theater productions. He also ran a silk screen printing business out of the Student Union, took a puppetry course where he met his first performing partner and future wife, Jane Nebel '55. Together, they developed and performed a daily five-minute show with puppets on local Washington, D.C. airwaves, WRC-TV, called Sam and Friends. The rest is history.
Jim Henson's imaginative storytelling of fantasy worlds combined with his mastery of and innovations in puppetry and media technology enabled him to creatively bring his Muppets to life. Generations of people all around the globe have been and continue to be inspired by Jim Henson's creations.
Be part of the fun on Henson Day or any day by spending some time unleashing your creativity and sharing your favorite Henson characters and stories on social media. When you post your gifs, images, and videos, don't forget to use the hashtags #HensonDay, #HappyHensonDay, and #TerpsHeartHenson.
Looking for inspiration to spur your imagination, explore these resources and read more about Jim Henson's legacy as an Innovator, Inventor, Storyteller, and a Difference Maker.
Jim Henson at the University of Maryland
In 1954, Jim Henson entered the University of Maryland, College Park as a major in studio art. The multitude of artwork that survives from this point in Jim's career indicates that he had a colorful visual imagination, a sharp eye for detail, and a creative knack for design. As a freshman at the University of Maryland, Jim was given the opportunity hone his puppetry skills during a course in the Home Economics Department, as well as through practical experience. His earliest endeavors into television took place immediately before and during his time as an undergraduate at UMD.  While a student in a puppetry class, he met fellow University of Maryland student Jane Nebel, who was an early partner in his television shows and would later become his wife.
Following a short-lived morning puppet segment on a local Washington station, Jim was hired by WRC-TV in 1955 to create a five-minute puppet show that would air twice nightly.  Entitled Sam and Friends, this program earned Henson his first Emmy in 1958 – two years before his graduation from the University of Maryland. For Sam and Friends, Henson introduced many of the elements that would become mainstays of his Muppet Show aesthetic – music, zany humor, and an early Kermit as a lizard-like creature. During his time at Maryland and WRC-TV, Jim Henson began to develop innovative puppetry skills that made his Muppets life-like and expressive, and that would have a profound effect on the way puppetry would be performed for television and films.
Throughout his career, Jim's connection to the University of Maryland remained strong. He was awarded an Honorary Doctor of Fine Arts degree and was the recipient of the Distinguished Alumnus Award of Distinction serving as the Grand Marshall at the University's Homecoming parade. Jim was also active with the University of Maryland Foundation and Kermit the Frog served as the spokesfrog. After Jim's passing in 1990, the UMD Marching Band honored Jim and Jane with a Homecoming tribute.
Jim Henson's Legacy at the University of Maryland
On September 24th, 2003, this bronze statue of Jim Henson and Kermit the Frog sitting on a red granite bench and weighs 450 pounds was unveiled in a joyous gathering of family, friends, and members of the campus community. It was created by sculptor Jay Hall Carpenter who was awarded the commission after an extensive design competition led by Jane Henson. The statue is surrounded by a memorial garden, designed by landscape architect Philip Cho. The landscaped garden provides a welcoming setting to enjoy Jim Henson's creativity, humor, and positive vision. The entire project cost $217,000 and was funded in part by gifts from the Classes of 1994, 1998, and 1999.
You can read more about the creation of the statue and the Jim Henson Memorial Garden at the University of Maryland at the Muppet Wiki.
To honor the legacy and creative genius of University of Maryland alumnus Jim Henson '60, alumna Jane Henson '55 established the Jim Henson Artist-in-Residence Program in 2006. The generosity of the Henson family has allowed the school to bring internationally acclaimed puppet artists to campus for a semester-long residency to teach courses, conduct workshops, create puppets for main season productions and mentor student artists with independent study projects.
Recent artists include:
In 2002, Jane Henson established The Henson Endowment for Performing Arts which supports Clarice Smith Performing Arts Center programs related to puppetry.
In 1996, Jane Henson established The Jim Henson Fund for Puppetry to foster interest in and encourage student work in the art of puppetry. The School of Theatre, Dance and Performance Studies hosts an annual competition and recipients are awarded funds to create a puppet project or performance. Every year the talented student recipients perform/present their funded projects during the Henson Awards Showcase.
Read more about the a few of The Jim Henson Fund for Puppetry recipients in this 2019 Maryland Today article, "They've Got the World on a String-or a Rod."
In January 2005, The Jane Henson Foundation and The Jim Henson Legacy generously donated videos and funding to support the creation of what is now known as The Jim Henson Works at the University of Maryland. This collection makes available to UMD's community of students, scholars, and visitors over 70 digital videos spanning 35 years of Henson's groundbreaking work in television and film. These full-length videos are available for viewing at public computer stations in the Michelle Smith Performing Arts Library, McKeldin Library, and Hornbake Library.
The Edward L. Longley Collection on Jim Henson covers the period from 1957 to 2003; the bulk of the materials date from 1979 to 1997. The collection includes a brief biography and lesson plan on puppetry, but the majority consists of newspaper clippings and various periodicals featuring narratives on Jim Henson's career. Also included are a few photographs of Jim Henson, his artwork, and two paper-mache heads, one male and one female.
Happy Henson Day!
Share your appreciation of all-things-Henson every September 24th!
This fun-filled tradition celebrates the life and legacy of Jim Henson and provides those who were and continue to be inspired by his creations to share their appreciation on his birthday. Henson Day was established in 2018 by the UMD Henson Committee, which includes various campus and local community members, along with support from The Jim Henson Legacy.
To kick-off of this annual celebration, the UMD Office of Marketing and Communications published, "Five Things You Didn't Know About Jim Henson's Time as a Terp," in Maryland Today.
Here are a few ways you can join the fun on Henson Day:
Articles
Blogs
Commercials
Films/Movies
Music
Podcasts
Puppetry
Television
Videos
Wiki